System Service
English > System Service
China Chang Jiang Energy Corporation is the subsidiary company held by China Aerospace

Science and Technology Corporation. We are dedicated to providing diversified and large-scale power generation equipments and power station operation services for the domestic and foreign users , and established a good cooperative relationship with them.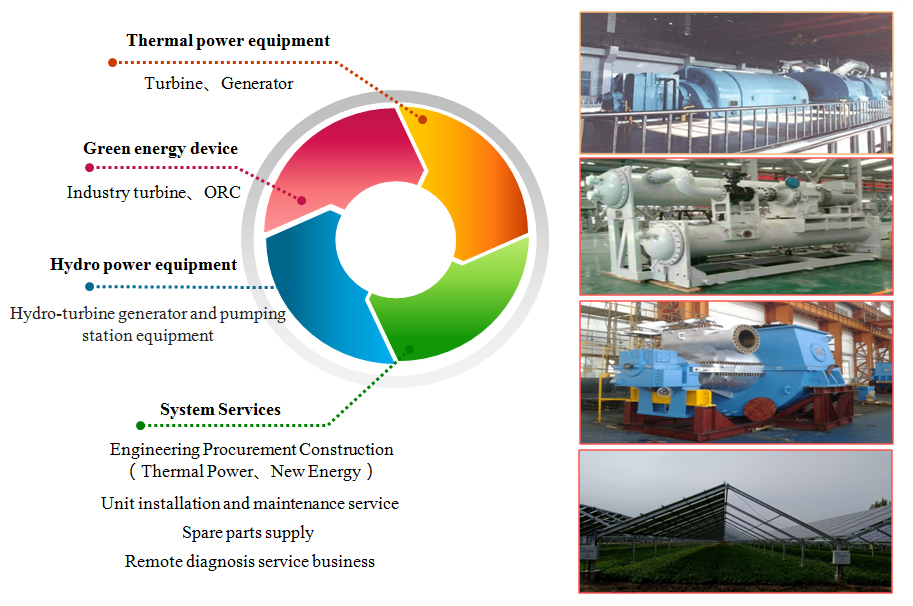 China Chang Jiang Energy Corporation is located in Wuhan, China. It is a large-scale comprehensive enterprise which mainly manufactures the steam turbine generator set and the water turbine generator set. It has the advantage of equipment completing, project contracting and providing the comprehensive services of modern equipment. The annual production capacity of the power generation equipment is 10000MW.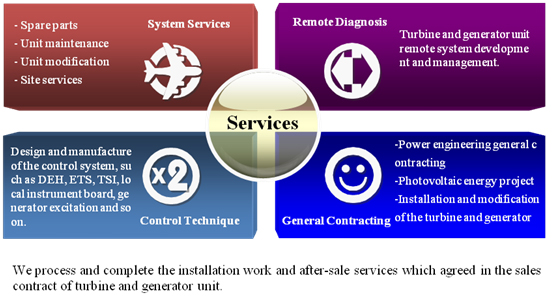 The company now has 2000 staff, 863 of which are engineers and technicians. Among them, there are 20 national, provincial and municipal experts, 2 are advanced-senior engineers, 123 senior engineers, 425 engineers.
Some of our Experts team of turbine and generator
Sun Guozhi: Turbine design expert, good at dealing with all kinds of problems of turbine, system service division
Hu Shaowen: Turbine design expert, national government allowance expert, senior engineer, turbine institute
Chen Yong: Generator design expert, national government allowance expert, senior engineer, generator institute
Chen Yonggeng: Generator design expert, senior engineer, generator institute
Xiao Changjiang: Turbine design expert, senior engineer, turbine institute
Han Fangliang: Turbine design expert, senior engineer, turbine institute
Yin Ruixiang: Turbine auxiliary system expert, senior engineer, economic power division
Gong Xiaoming: Turbine expert, senior engineer, economic power division
Liu Xiaohong: Thermal power expert, senior engineer, economic power division
Liu Heming: Control and governing expert of power plant, good at generator excitation technology, system service division
Mei Wangsheng: Production, installation, maintenance and overhaul expert, senior technician, system service division
Chen Zaiyong: Production, installation, maintenance and overhaul expert, senior technician, system service division
Ding Heng: Production, installation, maintenance and overhaul expert, senior technician, system service division
Wu Deping: Production, installation, maintenance and overhaul expert, senior technician, system service division
Xiong Dezhong: Generator expert, good at dealing with all kinds of problems of generator, system service division
Liu Nanli: Generator expert, good at dealing with all kinds of problems of generator, system service division
Hu Zhongguo: Control technology of power plant, good at dealing with problems of control, governing and protection , system service division
Peng Yuanbin: Control technology of power plant, good at dealing with problems of control, governing and protection, system service division
Liu Jianhua: Rotor expert of turbine, good at dealing with all kind of problems of rotor, senior technician, system service division
Hu Wenze: Control technology of power plant, good at dealing with problems of control, governing and protection, system service division
Wang Qian: Control technology of power plant, good at dealing with problems of control, governing and protection, system service division
Li Yuannong: Control technology of power plant, good at dealing with problems of control, governing and protection, system service division